Kesäkuu 1917, ennen kuin kaikki ensimmäiset A7V säiliöt oli valmistuneet, Saksan sotaministeriö antoi määräyksen kehittää suuren raskaan säiliön, joka on tarkoitettu käytettäväksi vain läpimurto tilanteissa.
Suunnittelutyön suorittivat Joseph Vollmer, reservin kapteeni ja insinööri, joka työskenteli yhdessä ja yhteistyössä (kuljetuksen ja teknologian tutkintolautakunnan) armeijan kapteeni Weger kanssa.
28. kesäkuuta 1917 sotaministeriö hyväksyi suunnitellun luonnoksen ja tilaa kymmenen jättimäistä K-Wagen panssarivaunua.
Riebe kuulalaakeri tehdas Berliini. Annetaan määräys rakentaa viisi (5) K-Wagenia.
ja seuraavat viisi K-Wagenia viiden vuoden aikana määrätään rakentamaan Wegman ja Co Kassel yhteistyö.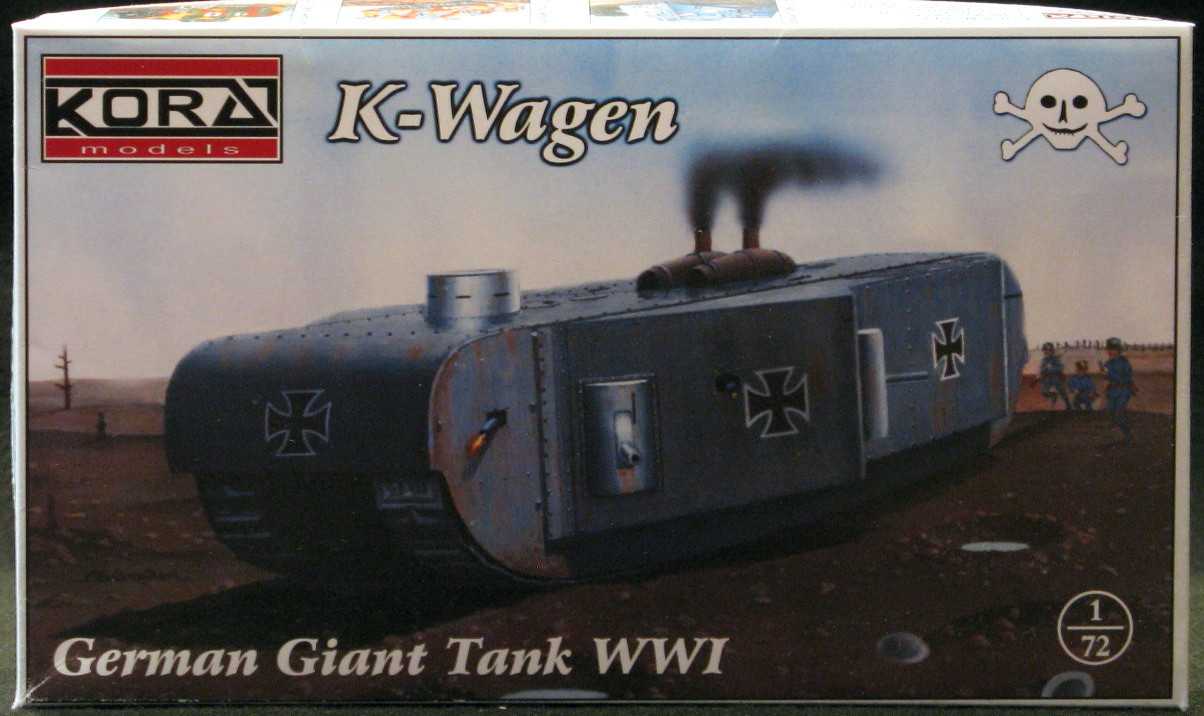 Ajoneuvon alkuperäinen paino oli laskettu165 tonnia mutta tämä karsittiin käytännöllisistä (kuljetukset) syistä 120 tonniin. Suuren koon ja painon johdosta oli mahdotonta siirtää vaunua liikenteelle tarkoitettuissa paikoissa, joita pitkin sen olisi pitänyt pystyä siirttymään paikasta toiseen.
K - Wagen runko koostui kuudesta moduulista jotka voitiin kuljettaa erikseen rautateitse Valvomo, taistelu huone, konehuone, voimansiirto huone ja molemmat telastot.
Komentaja oli miehistöön yhteydessä sähköisesti ja antoi määräyksiä miehistölle.
Tulenjohto oli verrattavissa hävittäjä-laivaan, ja saksalaiset todella näkivät tankin ohjaamisen ja kaiken toiminta tavat samanlaisena kuin hävittäjä laivassa.
Vaunun päällikkö oli "Kapteeni" jonka ohjeiden mukaan kuljettajien olisi pitänyt ohjata ajoneuvoa sokeasti, vain kapteenin antamien määräysten mukaan ohjaten.
Vaunujen aseistus oli neljä 77 mm linnoitus tykkiä ja seitsemän 7.92 mm konekivääriä. Miehistöä oli 27:
Komentaja, kaksi kuljettajaa, sähköttäjä, tykistöupseeri, 12 tykistön miestä, kahdeksan konekiväärillä ampujaa ja kaksi mekanikkoa.
Alussa harkittiin myös liekinheittimien asennusta, mutta ajatus hylättiin myöhemmin.
Paino: 120 t
Pituus: 13 metriä
Leveys: 6 metriä
Korkeus: 3 metriä
Crew: 27
Panssari: 30 mm
Ensi sijainen
aseistus:
4 x 77 mm tykki
Tois sijainen
aseistus:
7 x 7,92 mm Maxim konekivääriä
Moottori: 2 x V6 Daimler-Benz
650 hv
Jousitus: jousittamattomat
Speed: ​​7,5 km tunnissa
K - Wagen ei koskaan aloittanu toimintaansa. Aselevon olosuhteiden johdosta kiellettiin Saksalta panssarivaunujen valmistus ja hallussapito. Yksi tankki " Ribe " (vahvistus puuttuu) oli valmiina sodan loppuaikana, mutta se ei koskaan lähtenyt tehtaalta ja romutettiin sotilaskomitean valvovien silmien alla (Inter - Allied komissio of Control). Hitler rakennutti 1942 täysimittaisen puisen mallin vertailua saadakseen.
Tämän johdosta vaunut päätettiin rakentaan niin että ne voidaan monessa osassa siirtää rautatie kuljetuksessa ja vaunut voidaan kasata uudelleen vasta etulinjan takana, josta vaunujen oli tarkoitus hyökätä vihollisten etulinjaa vastaan.
Kaksi prototyyppiä ehdittiin rakentaa Hindenburg pyynnöstä ja vaunut olivat lähes täydellisen valmiita kun sota loppui.
In June 1917, before the first A7V tanks had been completed, the German War Ministr
y ordered the development of a new superheavy tank intended to be used in break-through situations. Design work was carried out by Joseph Vollmer, a reserve captain and engineer working for the Verkehrstechnische Prüfungskommission ("Transport-technologies Board of Examiners" of the army), and a Captain Weger.
On June 28 1917 the War Ministry approved the draft design and ordered ten examples, five to be built by the Riebe ball-bearing factory in Berlin and five by Wegman and Co. of Kassel.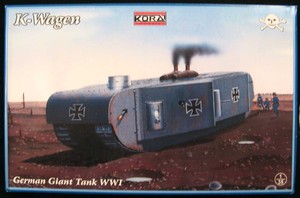 The vehicle originally weighed 165 tons but this was reduced to a more practicable 120 tons by shortening the length. The huge size and mass of the K-Wagen made it impossible to transport, so it was decided that it would be split into sections for transport by rail, to be reassembled behind the front line near where it was to be used.
Two prototypes were built at the request of Hindenburg, and were almost complete by the end of the war.
Weight: 120 t
Length:13 metres (43 ft)
Width: 6 metres (20 ft)
Height: 3 metres (9.8 ft)
Crew: 27
Armor: 30 mm
Main
armament: 4 x 77 mm guns
Secondary
armament: 7 x 7.92 mm Maxim machineguns
Engine: 2 x V6 Daimler-Benz
650 hp
Speed: 7.5 kilometres per hour (4.7 mph)
The hull of the K-Wagen consisted of six modules that could be transported separately by rail: the control room, the fighting room, the engine room, the transmission room and the two sponsons. The commander could give orders to the crew by means of electric lights: fire control was comparable to that of a destroyer, the Germans seeing the vehicle as a veritable "landship". The drivers would have had to steer the vehicle blindly, directed by the commander.
The K-Wagen was to be armed with four 77 mm fortress guns and seven Maxim machine guns and had a crew of 27: a commander, two drivers, a signaler, an artillery officer, 12 artillery men, eight machine gunners and two mechanics. At the beginning of the project the incorporation of flamethrowers was considered but later rejected.
The K-Wagen never became operational as under the conditions of the Armistice Germany was forbidden to possess tanks. One of the tanks, "Ribe"(verification needed) was complete at the end of the war, but it never left the factory and was scrapped under the watchful eyes of the Military Inter-Allied Commission of Control. In 1942 Hitler had a full scale wooden mock-up built for comparison.