Vuonna 1928 Renault onnistui yrityksessä saada hänen Renault NC hyväksytyksi lähtökohdaksi kehittää edelleen kevyttä jalkaväen tankkia, hänelle myönnettiin lupa jotta voidaan rakentaa kaksi prototyyppiä.
Renault käytetti nimitystä NC28.
Armeija kutsui tätä projektia Char D
Kaksi prototyyppiä valmistettiin ja ensimmäinen oli varustettu kaksois-konekiväärillä joka oli SRA Char de Bataille prototyypin tornissa. Lisäksi vaunussa oli uudistettu jousitusjärjestelmä jota testattiin.
Tankin jousitus oli valmistettu erityiselle, (chenille légère) kevyelle, eversti Ballandin suunnittelemalle telaketjulle joka oli optimoitu suuria nopeuksia varten.
Koska kyseinen vaunu oli suora johdannainen NC1 tankista siitä käytettiin nimitystä
NC2 mistä syystä käytetty nimitys aiheutti myöhemmin hyvinpaljon sekaannusta aikaisempaan NC2 tankkiin ja monet myöhemmätkin teokset olettavat niiden edelleen
olevan sama tankki. Näin ei kuitenkaan ole, vaan kyseessä on täysin erilaiset tankit.
Armeija teki valinnan maaliskuu 1929 toisen prototyypin, NC3 tankin tykki version
johdosta ja velvoitti Renaultin valmistamaan ennakkoon kymmenen ajoneuvon sarjan joulukuussa 1929.
Renault'n tehdas käytti tankeista tyyppi NC31, eli sama, kun aiottu valmistusvuosi.
Tilauksen mukaan
Renault rakentaa vain tankkien rungot hintaan 400000 FF / tankki. Valetut tornit oli Ranskan tavalliseen tapaan erikseen ostettu Schneider yhtiöltä.
Tornit olivat tyyppi merkinnältä ST1 (Schneider Tourelle 1) mallia. Kyseessä oli paljon
FT vaunujen tornia huomattavasti suurempi torni, Renault laajensi tankkien runkoja
riittävän suuren tilan saadakseen ja samalla myös tankkien etupään kapeneva keula
muotoiltin uudelleen, koko vaunun levyiseksi ja FT tyylinen keula rakenne hylättiin.
Tilatut kymmenen runkoa toimitettiin
toukokuun - marraskuun välisenä aikana 1931.
Kymmenen vuotta edellisten toimitusten jälkeen, kun Char 2C tankit valmistettiin oli
Ranska oli palannut kotimaassa valmistettujen panssarivaunujen sarjatuotantoon.
Kymmentä ennakkoon valmistttua sarjan runkoa testattiin 503e Régiment de Chars de Combat.
Monia puutteita ja ongelmakohtia etsittiin ja löydettiin komission de Bourges, Ranskan Jalkaväen tarvike komission toimesta.
Ohjausjärjestelmä oli vaikea, jousitus liian heikko, pakoputket ylikuumenee moottoritilaan

. Tästä huolimatta tyyppi on hyväksytty massatuotantoon, joten komissiolla oli vain vähän valinnanvaraa, koska pääsarja oli jo tilattu tehtaalta, tosin edellyttäen, että nämä muutokset on tehty.
Ensimmäisessä kymmenessä marraskuussa 1930 toimitetussa tankissa olleet ahtaat ja omituisen kapeat ST1 tornit oli poistettu näistä tankeista. Kummallista taas on se että sarjatuotannossa valmistuvissa tankeissa tämä torni oli hyväksytty.
Tornissa oleva tykki oli hyvin asennettu ja pystyi ampumaan laajalla alueella, mutta tykin lataus, tornin ahtaudesta johtuen oli hankala.

Joka kerta kun tykki ladattiin sen

perä täytyi laskea alin asentoon uutta latausta varten.

Muulla tavalla tykkiä ei voitu ladata.

Miksi tornia ei voitu vaihtaa ja valmistaa hieman suuremmaksi, on kysymys.
Vastaus siihen saattaa löytyä päättäjien ja tehtaiden henkilökohtaisista suhteista.
------------------------------------------------------------------------------------------------------------------
D1 with ST2 turret
Type:Tank
Place of origin: France
Service history: In service 1932 - 1943
Production history: Number built

160
Weight: 14 metric tons
Length: 5.76 m (
with tail)
Width: 2.16 m
Height: 2.40 m
Crew: 3
Armor: 40 mm
Armament: 47 mm SA34 tank gun + 7.5 mm Reibel machine gun
Engine: Renault V-4 gasoline 74 hp
Suspension: vertical springs
Range: 90 km
Speed: 18.6 km/h (11.6 mph)
NC 31 torni ST 2
Tekniset tiedot:
Pituus: 4,71 m (5.30 m hännän kanssa)
Leveys: 2,18 m
Korkeus: 2,50 m
Paino: 14 tn
Panssarointi: 40 mm
Miehistö: 3
Aseistus: 47 mm SA 34 + yksi 7,7 mm konekivääri ja toinen vara ase
Moottori: Renault 4 sylinterinen 64 hp 2000 r/pm, bensiini
Teho/paino: 5,29 hp / tn
Toimintamatka: 120 km
Nopeus: 18 km / h
-----------------------------------------------------------------------------------------------------
In 1928 Renault succeeded in his attempt to get his Renault NC accepted as the basis for further light infantry tank development; he was granted an order to build two prototypes.
The Army called this project the Char D
Renault used the designation NC28.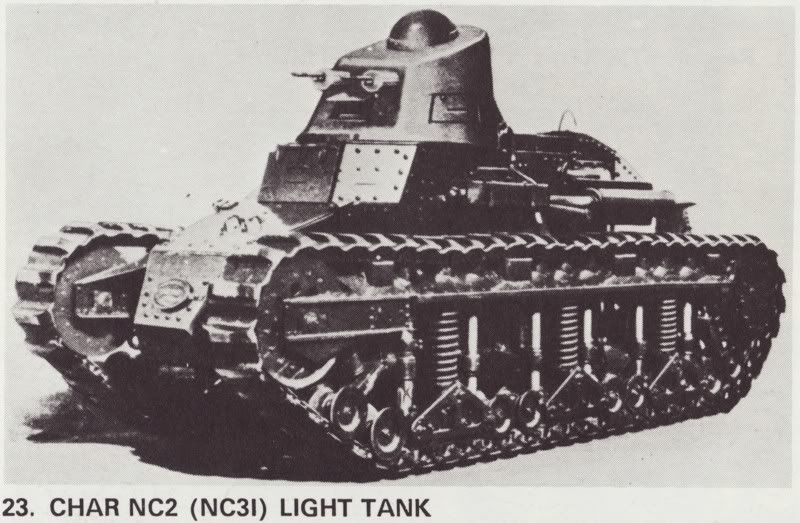 Of the two prototypes, the first was fitted with the twin machine gun turret of the SRA Char de Bataille prototype.
Also a new suspension system was tested incorporating the special chenille légère (light track) designed by Colonel Balland, which was optimised for high speeds.
As this vehicle was a derivative of the NC1,
it was later indicated with the designation NC2,
creating confusion with the earlier project of that name; many later books assumed they were one and the same vehicle.
The Army made a choice in March 1929 for the second prototype, the NC3 gun tank, and ordered a pre-series of ten vehicles in December 1929. These had the Renault factory designation NC31, after the intended year of delivery.
Renault merely had to build the hulls at a price of 400,000 FF each; the cast turrets were, as usual in France, separately ordered with the Schneider company; they were of the ST1 type (Schneider Tourelle 1). As this turret was much wider than the Renault FT turret used on all previous NC models, Renault broadened the hull accordingly; the typical tapering nose point of the Renault FT was abandoned.
The ten hulls were delivered between May and November 1931: after an interval of ten years after the delivery of the last Char 2C in 1921, French tank series production for the home market was thus resumed.
------------------------------------------------------------------------
On 23 December 1930 a first order of 70 main production series vehicles was made, followed on 12 July 1932 by a second order of 30; the last order on 16 October 1933 was of 50 vehicles, for a total of 150, delivered between January 1932 and early 1935, at a price of 375,000 FF per hull.
Including the NC31s the series numbers were 1,000-1,160. The factory designation was still Renault NC.
The series vehicles had many improvements: a Cleveland differential; a 74 hp instead of a 65 hp engine; the exhaust pipes were placed to the right, no longer crossing the engine room and there were support rollers fitted to prevent resonance in the top track run. Finally, the fuel tank was enlarged to 165 litres and a new radiator was fitted.
In May 1930 Renault was asked to develop two derived types, the Char D2 and the Char D3.
the original Char D now received as designation Char D1.
----------------------------------------------------------------------------------
The ten pre-series hulls were tested by the 503e Régiment de Chars de Combat. Many shortcomings were discovered by the Commission de Bourges, the French Infantry matériel commission. Steering was difficult, the suspension too weak and the exhaust pipes overheated the engine compartment. Nevertheless the type was accepted for mass production - the commission had little choice in this as the main series had already been ordered - provided that changes were made.
The strangely squeezed ST1 turret, the first ten of which were delivered from November 1930, was rejected though as being unacceptably cramped and unbalanced. To prevent that each time the gun was loaded, the breech had to be lowered into the fighting compartment or otherwise the round could not be shoved in, the main armament had been placed in a very forward position.
The ST1 turrets were therefore again removed from the first ten vehicles.