Ranskassa oli sodan jälkeen tarvetta saada uusi nopea, kevyt panssarivaunu tyyppi
joka sopii myös jalkaväen tukitankiksi. Renault teki ehdotuksen parantaa tai tuottaa
kokonaan uuden tyyppinen tankki, (
Char Léger d'Accompagnement d'Infanterie).
Louis Renault oli saanut tilauksen vuonna 1923 rakentaa kaksi uutta prototyyppiä rinnakkaisena muutoksina hankkeeseen, jollainen Renault NC oli, tarkoitus ei ollut ainoastaan parantaa jousitusta vaan asentaa myös voimakkaampi moottori.
Kuten "FT", "NC" on yhdistelmä koodikirjaimien joilta puuttuu merkitys.
Renault ehdotuksen tarkoitus oli muuttaa suuri ikääntynyt FT
kalusto modernisoimalla ne
NC1 muutosten mukaisesti ja
tämä hankkeen liittyi yhä ensisijaisena tarkoituksena muutosehdotukseen peruskorjata vanhentuneet Renault FT - 17 panssarivaunut.
Ensimmäinen prototyyppi joka valmistui nimettiin NC1. Siinä oli erilainen jousitus, jossa on kaksitoista pyörää ja kolme suurta pystysuoraa kierukkajouset kummallakin puolella joka
mahdollisti huippunopeuden 18,5 km / h, joten se oli nopein Ranskan tankki joka vuoteen 1926 mennessä oli koskaan rakennettu.
Prototyypin esittelyn tarkoitus oli tahto saada muuttaa suuri ja ikääntynyt FT
kalusto modernisoimalla ne
NC1 muutosten mukaisesti ja
tämän hankkeen ensisijainen oli tarkoitus saada muutettavaksi ja modifioida uudelleen vanhat Renault FT tankit
Toinen prototyyppi joka valmistui sijoittui toiseksi joulukuussa 1925
ja sai näin ollen nimen NC2.
Sen jousitus muutettiin Kégresse lehtijousitukseen ja 62 hp moottori.
Renault NC Kegresse Jugoslavia
Se oli vaihtoehtoinen nimitys Renault Modèle 24/25, koska Renault alkoi rakentaa tätä tyyppiä, joka oli yhtenä nopeasti liikkuva tankki määrittelyllä, jollainen oli Ranskan ratsuväen toiminta-suunnitelman 1924 mukainen.
Tähän ryhmään kuuluvien panssarivaunujen kehittäminen kuitenkin keskeytettiin.
Mutta 1926 suunnitelmassa huomiotiin valmistuksen arviointi rakenteiden tärkempiä ominaisuuksia kohtaan joka osoitti että raskaiden Char B1 tankkien valmistus olisi liian kallista että Renault voisi tuottaa suuria määriä näitä raskaita panssarivaunuja.
Renault NC 1 Stridsvagn fm/28
Renault yritti myös avata vientiä ulkomaisille markkinoille ja vuosi 1928 myi yhden NC prototyyppi tankin Ruotsiin, joka nimettiin ruotsissa Stridsvagn fm / 28 vaunuksi.
Otsu-Gata B
Vuosi 1929 Renault sai myytyä kymmenen tankkia Japaniin, jossa niitä kutsuttiin nimellää Renault Otsu-Gata ("tyyppi B").
Puolaan toimitettiin 24 kpl pienin muutoksin
joiden panssarointi oli 25 mm ja 7,5 tn paino kohosi 9,5 tonniin tämän ansiosta.
Kreikkaan laivattiin erikseen yksi tankki 1930 luvun alussa.
Näitä kaikkia tankkeja kuvataan sodanjälkeen kirjottajien teksteissä nimellä NC27, mutta tämä ei ollut oikea nimitys näille toimitetuille vaunu tyypille.
Renault NC 28
------------------------------------------------------------
NC 1
Valmistettu: 20 kpl
Paino: 8 tn
Panssari: 8 - 30 mm
Miehistö: 2
Moottori: Renault 4 sylinterinen 8 litran / 60 hp rivimoottori, bensiini.
Nopeus 18 km /h
Toimintamatka: 120 km / 150 litraa
Aseistus: 1 x 37 mm tykki + 1 x 7,5 mm konekivääri
NC 2
Valmistettu: 3 kpl
Paino: 9,5 tn
Panssari: 8 - 34 mm
Miehistö: 2
Moottori: Renault 4 sylinterinen 9 litran / 75 bhp rivimoottori, bensiini.
Nopeus 20 km /h
Toimintamatka: 120 km / 150 litraa
Aseistus: 1 x 37 mm tykki + 1 x 7,5 mm konekivääri
------------------------------------------------------------
Meanwhile Louis Renault had obtained an order in 1923 to build two new prototypes as a parallel modification project, with the factory designation Renault NC; it was intended to feature not only an improved suspension system but also a stronger engine. Like "FT", "NC" is a combination of code letters devoid of any meaning. One prototype happened to be finished second, in December 1925, and was therefore called the NC2.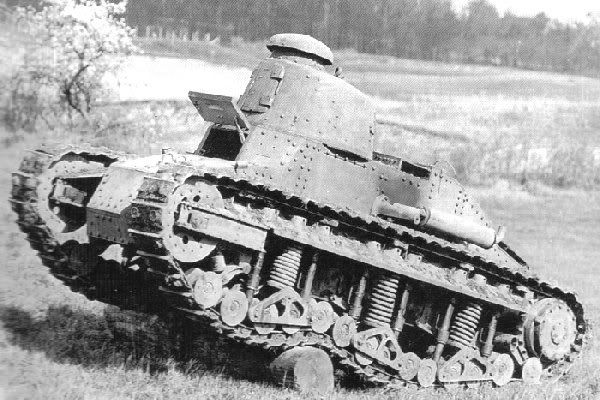 It was fitted with a modified Kégresse leaf spring suspension and a 62 hp engine. It had as an alternative designation Renault Modèle 24/25, because Renault proposed to build it as a possible "fast tank" as specified in Plan 1924 of the French Cavalry. This line of development was discontinued however. The first prototype to be ready, thus named the NC1, had a different suspension system, with twelve wheels and three large vertical volute springs per side. It allowed for a top speed of 18.5 km/h, making it the fastest French tank ever in 1926.
As had been the case for the Renault FT Kégresse, this project was still primarily intended to result in a modification proposal to rebuild existing Renault FTs. In 1926 it transpired that the Char de Bataille project, that later resulted in the Char B1, was evolving into a far heavier tank than at first intended.
It would be impossible to procure this heavier design in sufficient numbers and therefore specifications were made in the Infantry Plan 1926 for a new Char léger d'accompagnement d'infanterie, a "light infantry support tank". Renault immediately tried to offer his NC1, now called the Renault Modèle 26/27, as the logical candidate for this role.
Renault also tried to open foreign markets. In 1928 he sold a single NC prototype to Sweden, in that country named the Stridsvagn fm/28
in 1929 he obtained an order of ten vehicles for Japan, there called the Renault Otsu-Gata ("Type B"); and 24 more were according to some sources delivered to Poland, fitted with 25 mm side armour, bringing the weight from 7.5 to 9.5 metric tons. In the early 1930s a single tank was delivered to Greece. All of these vehicles were described by postwar writers under the name NC27, but this was not a contemporary designation.