Neuvostoliitto osti 1930 yhdysvalloista kaksi Christien valmistamaa panssarivaunua. Kaupan välitti amerikkalais-neuvostoliittolainen yhtiö Amtorg. Myynti tapahtui myymällä vaunut ilman tornia ja ilman aseita, joten hallitus hyväksyi kaupan, kun

hallitukselle ilmoitettiin kahden (2kpl) traktorin myynti neuvostoliittolle.

New Yorkin satamasta lähti 24.12.1930 laiva kohti neuvostoliittoa. Kauppaan kuului käytön ja huollon opetus, sekävaunujen lisenssi-valmistus oikeus.
(Samoin tapahtui hieman myöhemmin (1939) brewster hävittäjät myynti suomeen. Tosin silloin koneet myytiin romuina ja purettu laatikoissa, ilman varusteita ja aseita) Vaunut vietiin Voronez sijoitettuun panssarivaunu yksikköön kokeiltavaksi. Christie vaunut osoittautuivat paljon paremmiksi kuin silloin neuvostoliitossa olevat vaunut, jotka oli Renault FT-muunnoksia ja ratkaisevasti paremmiksi kuin mikään muu silloin käytössä oleva tai siihen mennessä valmistettu panssarivaunu tyyppi. Christien vaunu erosi kaikista muista silloin valmistetuista panssarivaunuista monen eri seikan johdosta. Siinä oli neljä suurta telapyörää jotka kaikki oli erillis - jousitettu, ja joiden joustovara oli suuri, n. 25 cm, ylös ja alas, joten joustovara oli lähes 0,50 cm.
Jousitus oli hyvä ajettaessa, se ei täristänyt ja salli myös hyvin suuret ajonopeudet. Vaunu oli siis erittäin nopea, telaketjuilla varustettuna 44 km / h ja pyörillä 70 km / h. Moottori oli Liberty V-12, nestejäähdytys, otto, jonka teho oli 338 hv / 249 kw. Vaunun teho-paino oli 44 hv / tonni, johon monet toiset panssarivaunut ei päässyt.
Panssarivaunut olivat olleet aikaisemmin hitaita 7- 10 km /h , joten pitkä siirtomatka oli aina ollut ongelma. Paljon oli kokeiltu maastossa ja maantiellä liikkumiseen erilaisia pyörän ja telaketjun yhdistelmä ratkaisuita, jotka kaikki oli kuitenkin epäonnistuneet monimutkaiseten tai heikkojen rakenteiden ansiosta.

Christie tuntui onnistuneen

. Kesällä 1931 vaunut vietiin Harkov Veturitehtaaseen, jossa sille annettiin nimi nopeuden mukaan, BT eli bystrohodnyij tank = nopea tankki = fast tank. Nämä kaksi yhdysvalloista ostettua tankkia saivat tyyppinimen, BT-1 tankki. Vaunuja tutkittiin ja kokeiltiin tarkasti, niiden parantelu ja valmistustyöt aloitettiin heti.
Toukokuussa 1931 SNTL vallankumouksellinen sotaneuvosto antoi luvan aloittaa tuotanto ja valmistus heti, vaikka yhtään prototyyppiä ei koskaan ehditty valmistaa. Vaunujen valmistusta sotaneuvostolle esitti Halepski, jonka esitys siis hyväksyttiin. Vaunujen tuotannon valmisteluun ja niiden kehittämistyöhön osallistui tehtaalta panssarivaunujen suunnittelu-toimiston päällikkö N.M Toskin, A.O Firsov, A.A Morosov (voimansiirto), A A Moloshtanov (aseistus), M I Tarsinov (runko), S N Mahonin, sekä paljon muita insinöörejä. Vuoden 1931 lopulla valmistui ensimmäiset kolme BT-2 panssarivaunua. Nämä vaunut osallistuivat vallankumouksen vuosipäivän paraatiin punaisella torilla 7. marraskuu 1931.
BT-2 vaunujen pyörivässä tornissa oli 37 mm Hotckiss tykki, putken pituus kaliiberi oli 20, tykin oikealla puolella oli konekivääri. BT-2 vaunua kehitettiin edelleen. Välimalleina oli tyypit BT-3 ja BT-4 oli kahdella tornilla varustettu malli, toisessa tornissa 37 mm Hotckiss tykki ja toisessa yksi konekivääri. Ulkomailla neuvostoliiton BT-vaunut saivat nimen Ruskii-Cristie = venäläinen cristie.
BT-vaunujen käyttötarkoitus oli neuvostoliitossa puna-armeijan panssari-yhtymiin ja mekanisoituihin armeijakuntiin.BT-vaunujen perusrakenne säilyi lähes muuttumattomana kaikissa eri vuosien aikana valmistetuissa tuotanto - malleissa. Suurimmat muutokset tapahtuivat BT-2 mallin jälkeen aseistus-, torni- ja moottorissa.
Pää aseeksi tuli 45 mm tykki ja sen oikealle puolelle yksi 7,62 mm DT-konekivääri. Joihinkin vaunuihin lisättiin tornin takulokkeeseen yksi konekivääri, eräissä oli yksi ilmatorjunta konekivääri tornin katolla, tämä siis myöhemmissä sarjoissa.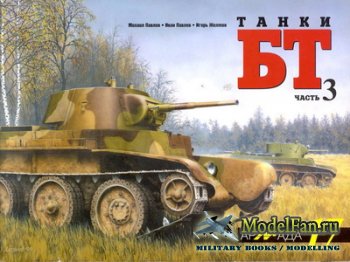 Tank BT-3
Tank BT-4
BT- Panssarivaunuja valmisti ainoastaan Harkov veturi tehdas.
(muutamia erikois malleja lukuun ottamatta)
Aseistus ja torni olivat samat kuin T-26 panssarivaunussa.
-------------------------------------------------------------------------------------------------------
BT-2
Type: Ligcht cavalry tank
Place of origin: Soviet Union
In service: 1932–45
Wars: Spanish Civil War, Soviet–Japanese border conflicts, Winter War.
Designer: J. Walter Christie, Morozov
Designed: 1930–31
Manufacturer: KhPZ
Produced: 1932–41
Number built:

BT-2: 650
Variants

BT-2, BT-3, BT-4
Weight: 11.5 tonnes
Length: 5.58 m
Width: 2.23 m
Height: 2.25 m
Crew: 3
Armour: 6–13 mm
Armament: 37-mm gun + 1x 7.62-mm DT machine gun
Engine: Model M-5, casoline, 400 hp (298 kW)
Power/weight

: 35 hp/tonne
Suspension: Christie
Fuel capacity: 360 litres
Range: 200 km
Speed: 72 km/h
--------------------------------------------------------------------------------------------------------
The BT-2 tanks were "convertible tanks". This was a feature designed by J. Walter Christie to reduce wear of the unreliable tank tracks of the 1930s. In about thirty minutes the crew could remove the tracks and engage a chain drive to the rearmost road wheel on each side, allowing the tank to travel at very high speeds on roads. In wheeled mode the tank was steered by pivoting the front road wheels. However, Soviet tank forces soon found the convertible option of little practical use in a country with few paved roads, and it consumed space and added needless complexity and weight. The feature was dropped from later Soviet designs.
Christie, a race car mechanic and driver from New Jersey, had tried unsuccessfully to convince the U.S. Army Ordnance Bureau to adopt his Christie tank design. In 1930, Soviet agents at Amtorg, ostensibly a Soviet trade organization, used their New York political contacts to persuade U.S. military and civilian officials to provide plans and specifications of the Christie tank to the Soviet Union. At least two of Christie's M1931 tanks (without turrets) were later purchased in the United States and sent to the Soviet Union under false documentation in which they were described as "agricultural tractors."
Both tanks were successfully delivered to the Kharkov Komintern Locomotive Plant (KhPZ). The original Christie tanks were designated fast tanks by the Soviets, abbreviated BT (later referred to as BT-1). Based both on them and on previously obtained plans, three unarmed BT-2 prototypes were completed in October 1931 and mass production began in 1932. Most BT-2s were equipped with a 37 mm gun and a machine gun, but shortages of 37 mm guns led to some early examples being fitted with three machine guns.
The sloping front hull (glacis plate) armor design of the Christie M1931 prototype was retained in later Soviet tank hull designs, later adopted for side armor as well.
The BT-4 BT-3 and later BT-5 models were equipped with a 45 mm gun.