Vuonna 1926 British War Office halusi korvata Mark II tankit uudemmalla versiolla.
Royal Tank Corps keskus esitti vaunun vaatimukset joita oli painoraja 16 tn max.
1: Vaunun pitää olla helppo kuljettaa junalla tai autokuljetuksella,
2. Suuri toiminta matka ja riittävä määrä polttoainetta ja voiteluöljyä tälle matkalle.
3. Langaton radio jolla saadaan yhteys vaunun ulkopuolelle tai toiseen vaunuun.
4. Tykki joka voi tuhota vihollisen tankki vähintään 1000 metrin etäisyydeltä.
5. Polttoaine säiliöt erillä taistelutilasta
6. Pohjapanssarin tulee kestää raskaan konekiväärin tuli harjulle noustessa.
7. Erillinen tila, jonne moottori asennetaan
8. Moottorin melu ei saa häiritä miehistön toimintaa, uu
si hiljainen moottori.
9. Tehokas ja helposti hallittava ohjaus
10. Panssarointi vahvuus edessä vähintään 13 mm muualla 9 mm vahva.
------------------------------------------------
Indebendent panssarivaunu kehitys Englannissa jäi vain Mark I ja Mark II vaunujen valmistumiseen.
Vaunuista saadut kokemukset säilyivät, samoin piirustukset
jotka myöhemmin olivat kulkeutuneet neuvostoliittoon.
-----------------------------------------------
Independent vaunuista saatujen kokemusten perusteella joiden taistelutila oli edessä
ja moottoritila takana valmistui
uusi
18 tonnin panssarivaunu, Medium Mark III A 6.
Vaunun prototyyppi esiteltiin ensimmäisen kerran 1927 maaliskuu, joka hyväsyttiin.
Tämän jälkeen esiteltiin toinen protyyppi joka hyväksyttiin kun molemmat tankit oli
varustettu Wilsonin uudella hydraulitoimisella planeettapyörästö tyypin ohjauksella
jonka edeltäjä oli Merrit-Brown vaihteisto.
Uudet versiot, A6E1 ja A6E2 esitellään
Mechanized Warfare Experimental
esitellään
valmistuksen aloituksen / perustamisen testaus tarkoituksessa, kesäkuu 1928.
Tässä samassa yhteydessä Vickers määrätään lisäämään panssarointia helmoissa, mutta samalla säilyttämään asetetut tankkien painorajoitukset vaikka se tarkoitti panssaroinnin vähenemistä muualla vaunussa.
Lisäksi samassa yhteydessä tilattiin kolmas protyyppi joka sai nimen A6E3.
Aseistusta testattiin heinäkuu 1928. Samalla luovuttiin kaksois - konekiväärien käyttö pienissä torneissa ja kun A6E3 valmistui niissä oli yksi konekivääri. Ylätornissa oli kupoli tornin keskilinjalla. Ilma torjunta-konekiväärin torni poistettiin A6E1 mallista.
Kokeilu osoitti myös että vaunujen jousitus, tykin asennus, käyttö ja ampuminen oli
selvästi huonompi kuin Mark II panssarivaunussa. Näistä syistä tankkien valmistusta ei päätetty jatkaa ja valmistuneet kolme vaunua jäivät pelkiksi testi vaunuiksi.
Mark A6 vaunussa oli pää-torni, jossa aseistuksena oli tykki ja konekivääri, päätornin edessä alapuolella oli kaksi pientä tornia joissa oli konekivääri. Päätornissa oli pieni torni jossa ilmatorjunta kaksois-konekivääri
kuten lentokoneiden tähystämössä.
Prototyyppi Mark III vaunua valmistettiin kolme erilaista versiota, yksi jokaista tyyppiä.
Panssarivaunujen ero oli moottorissa, voimansiirrossa ja vaunujen aseistuksessa.
A6E1 version oli 8 sylinterinen V- moottori 12, 8 litran Armstrong-Siddeley bensiini
180 hp/132 kw moottori joka oli ilmajäähdytetty. Ohjaus systeemi oli kytkin ja jarru.
A6E2 version moottori oli V-8 sylinterinen Ricardo diesel, 180 hp/136 kw, ohjaus
oli jarru ja kytkin systeemi.
A6E3 verison moottori oli V-8 sylinterinen 12,8 litran Armstrong-Siddeley bensiini,
180 hp/132 kw ilmajäähdytetty moottori. Tämän päätornissa oli takana uloke.
A6E3 mallissa oli monisäde ohjaus jossa
molemmassa telassa oli oma 6 portainen kiertopyörästö-vaihteisto
(6-asentoa, Planeetta vaihde, kuten esim. junan veturi).
Neuvostoliitto otti tämän systeemin käyttöön T-72 vaunuissa 7-vaihde versiona
siis, yksi vaihteisto / yksi tela.
----------------------------------------------------------------------------------------------------
Valmistus: 1 kpl 1928
Medium Mark III A6E1
Paino: 18 tn
Pituus: 6,53 m
Leveys: 2,65 m
Korkeus: 2,49 m
Miehistö: 6
Aseistus: 47 mm tykki ja 1 x 7.62 mm kk päätorni, 2 x kaksois-konekivääri pikkutornit.
Moottori: V-8 Armstrong-Siddeley 180 hp / 132 kw ilmajäähdytteinen otto.
Ohjaus: Kytkin - jarru
Toimintamatka: 185 km
Nopeus: 48 km/h
--------------------------------------------------------------------------------------------------------
The result was called A6. In March 1927 a wooden mock-up was presented and after approval a second and prototype were ordered which had to incorporate the new hydraulically operated Wilson epicyclic steering gearbox, the predecessor of the Merrit-Brown gearbox.
By June 1928 both prototypes (A6E1 and A6E2) were presented to the Mechanized Warfare Experimental Establishment for trials. Vickers was on this occasion ordered to add armour skirts but keep within the weight limit even if it meant removing armour elsewhere. Meanwhile a third prototype had been ordered: A6E3.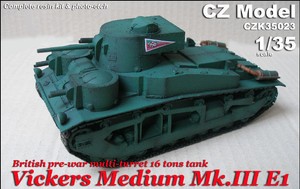 A6E1, A6E2 and A6E3 were fitted with an Armstrong Siddeley air-cooled V8 180 hp engine giving a maximum speed of 26 mph. A6E2 was fitted with the Ricardo CI 180 hp engine but this was not satisfactory and the Armstrong-Siddeley refitted.
A6E3 was later re-engined with the Thornycroft 6V 500 hp - a slow running marine engine. It was proposed to combine two Rolls-Royce Phantom engines with the Wilson transmission system on the A6E1, but in view of the costs this was rejected. A6E2 was eventually refitted with the AS V8 180 hp.
The guns were tested in July 1928. This proved that the twin-machine gun arrangement was unworkable; so the A6E3, then being constructed, was fitted with a simplified design with a single machine-gun; it also had single cupola on the centreline of the turret. The AA-turret was removed from A6E1.
However it was also shown that the suspension and the gunnery arrangements were distinctly inferior to those of the Mark II. It was therefore decided to discontinue the development of the type and use the three vehicles merely as test-beds for the automotive parts. In 1929 Vickers submitted three alternative suspension designs, which were fitted to the respective prototypes; one of these, tried on A6E3, involved a fundamental reconstruction of the hull.
None proved able to provide a stable gun platform. Only in 1934 a satisfactory type was fitted by a specialised firm