First aid, hit in the neck
Two death, horse transport
Soviet prisons
soviet nurse, and soldier both prisoners
A wounded soviet officer, first aid to the wound
first aid station
------------------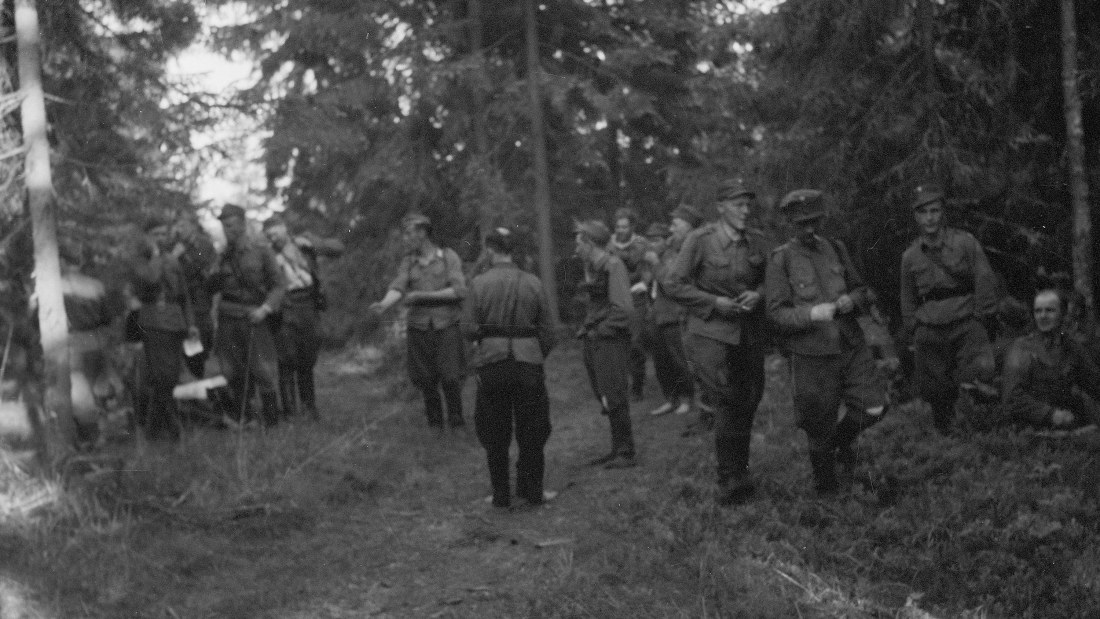 pause offline
Escape out of island, some without shoes and only some of the clothes, when the enemy surprised they by night.
after the battle
Lotta women Töpinä-car (cantina-car) close to the front line.
Apparently, the model 1932 Ford B-Phaeton-cabriolet, which has been cut off, now pickup truck
SA-pictures
---------------------
destroyed BA-10
Captured BT-7
BT-7 tank are stopped
Very rare light tank, T-50
the war booty heavy howitzer
Lost stu-40 (pz-III body)
Old 150 mm howitzer
Old and heavy finnish field gun
T-34 test drive
war bounty, soviet 155mm gun + komsomolets tractor
Pz-III
T-34 test drive
the war booty howitzer
Finnish rocket launcher test, (pilot stage) mounting Russian 45mm-gun body
Stu 40
French made 25 mm at-gun, nickname Marianne
Nice, and very rare. T-30 light tank, near new
Stu 40 gannon pipe, more stripes...
T-34 body repairs...
T-34 body + turret
T-34 body + turret
Madsen 20 mm aa-gun
war bounty, soviet 75mm field gun
Field gun 75 mm
Bofors 40 mm aa-gun
Finnish 76 mm aa gun
Captured half-track car and a 122 mm howitzer
Tampella 120 mm mortar
New weapon, panzerfaust...
Two pipe Lahti aa-mg
Mp-40
gun designer Aimo Lahti
Pak 75 mm
MG-nest, in frontline
the neighbor trench, branching out
soviet 125mm ampoule thrower, finnish army test
Italian MAS boat and breda 20mm gun
wilderness long patrol explore the village soviet area, before the attack this partisan village
crushed coffee beans, use a helmet and arm hand grenade
Pak 75mm
VL Myrsky
(English: Storm) was a
Finnish
World War II
fighter, designed by the State Aircraft Factory (
Valtion lentokonetehdas
) for the
Finnish Air Force
. The models of the aircraft were
Myrsky I
,
Myrsky II
, and
Myrsky III
. (VL = Valmet = State metal industries)
Bristol Blenheim, short nose


Tuisku-II (snowstorm) elementary school, and communications aircraft


Brewster fighter, pilot own uppercut
film cameraman


Air control


group of military priests, in the middle is a bishop
--------------------
Hitlers visit. Hitler spent six hours in Imatra 04.06.1942. After the food Mannerheim, Ryti and Hitler discussed the salon wagon. M
annerheim 75 years birthday, and he received the title of Marshal of Finland.
Mannerheim make
a return visit to Germany 27 to 28. June 1942.
He became Hitler's Eastern Front Headquarters Wolf's nest, and also Hermann Göringin guest Reichsjägerhof Rominten.
Gift for Hitler